Our Polly-Crafts tm White Foam Faces, #FACE800X are Great for creative painting and decorating with the kids' during Fun Craft time, school art projects, art/teacher supplies, floats, centerpieces, Special Theme/Events, Mardi Gras, Masquerade, and unique Wall Décor.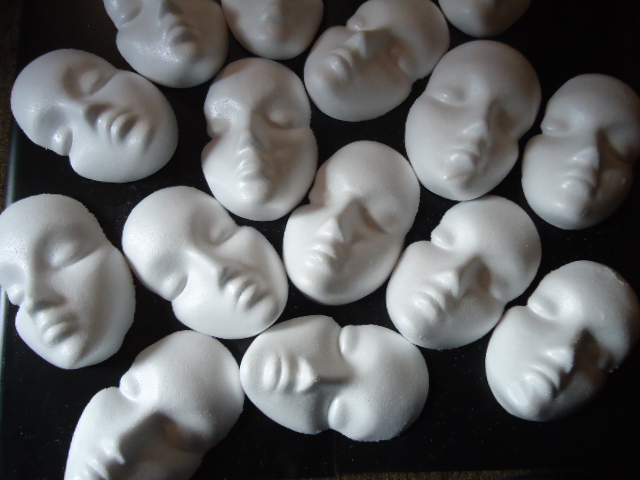 MADE IN THE USA Quality and Extended Value by Polly Products Company. Inc. Recyclable and Upcyclable Foam. 5″ x 7″ Size.

Some of our other Craft products include: Ducks, Carrousel Horses,  Head forms, foam balls, and More!
Standard style is white (paintable with water-based paints; oil-based paints are ok after 1st seal coating of water-based paint). Some examples of our clients' art classes/kids' art projects, and other Mardi Gras decorated styles are shown..#FACE800X    Standard White
3-5pc: $2.25pc.       6-9pc: $1.99pc.      10-14pc: $1.80pc.     
15pc: $1.65pc.
—————————————————————————————-
***SEE SPECIALS SECTION FOR ADDITIONAL DISCOUNTS AND SAVINGS FOR CURRENT STOCK!!
**Quantity, Wholesale, and Distributor discounts are available to qualified businesses.



 Please contact us on our website, call, fax, or e-mail your order. Our e-commerce section of our new website is under construction.
401-595-4478              
fax: 508-478-1900                 
info@polly-products.com
POLLY PRODUCTS COMPANY, INC. Face/Mask Art Forms  #FACE800X


——————————————————————————————
POLLY-PRODUCTS.COM
More than 40 Years of Experience, American Quality, & Extended Value since 1976